Low Back Ache - Prevention of L.B.A. Through Some Simple Tips
Back pain is extremely common and most people suffer from it. There are many reasons said to be the cause for this. Poor body posture is likely to be the main reason for back pain in majority of cases. And this can be avoided by a few precautionary measures.


Our body mechanism is designed in such a way that the vertebral column bears the major sum of our body weight, as a result this happens to be the area more prone to wear and tear.
Prevention is always better than cure so let us see how to prevent back ache through some simple tips. These practical tips will help you to avoid back pain.
Body positions and various activities increase the intra discal pressure load. An understanding about the intra discal pressure at various body positions and on various activities will help you to maintain a correct body posture as well as keep you away from doing an activity in a wrong way.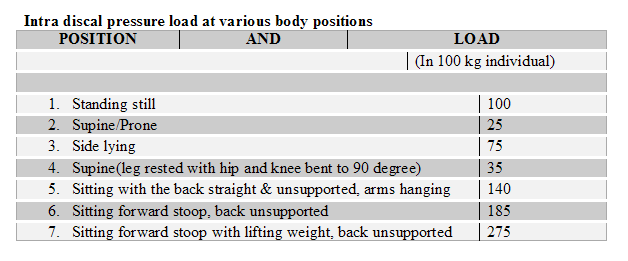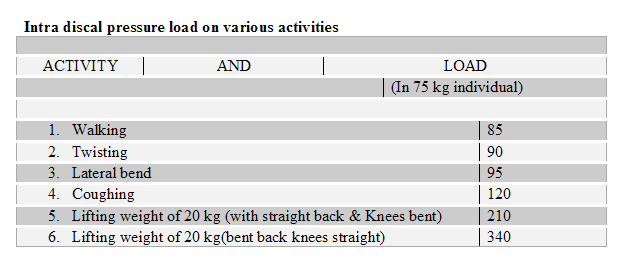 TIPS:
Standing:
While standing for long time give support to your back. (By supporting on a wall) or else keep one of your leg higher than the ground level.
Do not droop your shoulders, which will again cause muscular strain.
 
Sitting:
While sitting do not select a low stool.
Always your Knee level should be higher than your hip level. Or else adjust it by putting a foot stool.
While doing office work adjust the height of your chair in accordance with the table so as to:

Make your upper arms parallel to your vertebral column and
Elbows should be in 90 degree.

Avoid continuous sitting in same position.
Always sit nearer to the table, while doing any work.
Lifting Objects:
If you have to lift an object, start with a stable posture. Keep your feet apart to maintain balance.
Avoid stooping and bend your knees, keep your back straight and lift the object.
While lifting bring the object as near as possible to your body. If needed you can support your knees while getting up from the floor.
Pushing or Pulling:
Always opt to push rather than pull, when moving an object
Life Style Modifications
:
Maintain correct Posture.
Maintain appropriate body weight.
Regular exercise for back and abdominal muscles.
Use firm mattress for sleeping.
While lying down keep one pillow under your knee.
Do not sleep with pillows kept in too much height.
Always slow, getting up from forward bending to upright.
Wear comfortable flats or low heel shoe. Soft and well padded foot wears are advisable for long walks.
While traveling select middle seats rather than front and back seats.
Do warming up and stretching before any physical activity or sport.
While sitting in front of a computer, adjust your seat so as to make your eyes concentrate at the center of the computer.
References
Rakel D. Low Back Pain. In:
Integrative Medicine.
Sierpina VS, Curtis P, Doering J. An Integrative Approach To Low Back Pain.
Cynthia C. Norkin, Pamela K., Dsc, Pt. Levangie, Joint Structure and Function: A Comprehensive Analysis
Comments
24 Mar : 09:59 am
how the mattresses and chair for backache prevention works
You must be logged in to make comments on this site - please log in, or if you are not registered click here to signup