Understand Diabetes Get Involved: 14th November 2010 is World Diabetes Day
Saturday 13 November 2010 - 10:37:32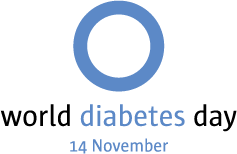 Diabetes is a global problem with devastating human, social and economic impact. More than 250 million people worldwide are living with diabetes and by 2025, this total is expected to increase to over 380 million people. Each year another 7 million people develop diabetes.
Diabetes is a growing epidemic threatening to overwhelm global healthcare services, wiping out some indigenous populations and undermine economies worldwide, especially in developing countries. Each year more than 3.8 million people die from diabetes-related causes, one death every 10 seconds. This silent epidemic claims as many lives annually as HIV/AIDS.
International Diabetes Federation's slogan 'Unite for Diabetes' aims to bring together all affected by diabetes to support each other and advocate for change. The word 'against' was rejected as it is negative, confrontational and open to misinterpretation. It was felt that the word 'for', like the circle itself, has positive connotations of collaboration
towards a shared objective.
IDF encourages everyone to wear the symbol blue circle and to support and promote the UN Resolution on diabetes.
News Categories