'Erode To Austria'- Tale Of A Bus Conductor's Son.
Tuesday 06 March 2012 - 20:53:43
It is a tale of determination and focus. Sathiyaseelan. PT., who hails from Erode, Tamilnadu, completed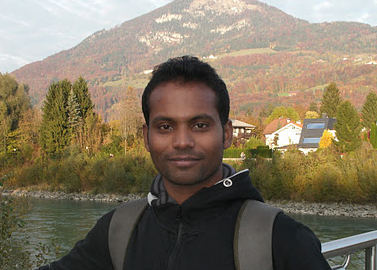 his Masters in Sports Physiotherapy in 2011 from Guru Nanak Dev University, Punjab with a University second rank.
From the modest life of a common man, his dedication, hard work and determination found acceptance among the physiotherapy community when his papers were accepted by international journals and bodies.
Sathiyaseelan credits his success to his humble upbringing and the values put into him by both his father K. Ganesan who is a bus conductor and a well-respected union leader and his mother G. Velumani.  He adds that he is indebted to both of them as well as his younger brother for the sacrifices and support they made for him to succeed.
Sathiyaseelan was pushed into the limelight when his paper titled 'Neurofeedback training enhances psycho-physiological and performance level of university archery players' found a place in the German Medical Science Journal. He was invited to present his paper in the 7th European Sports Medicine Congress held in Salzburg, Austria in 2011. Adding another feather for his hard work was acceptance of his another study titled '
Analysis of Low-Beta Waves and Heart Rate in Three Different Conditions of Archery Performance' and invitation for presentation of the paper at the Australasian Cognitive Neurosciences Conference- 2011, Sydney- Australia.
The best of times came his way when the
Junior Chamber International- Erode Metro
recognised the talent in this young physiotherapist and awarded him the
Outstanding Young Citizenship Award by the year 2011.
He remembers that it was the article written by Timothy Harkness, sports psychologist, on Indian ace shooter Abhinav Bindra and his training based on neurofeedback that motivated him to study more about the same. He does not forget to mention the help he received from Ms. Maman Paul, Lecturer & In-charge of Sports Psychology Lab, Prof. Dr. Jaspal Singh Sandhu, HOD and Dean both from GNDU as well as his friend Mr. Joel Varghese Simon from University of South Australia for their contribution for the study. The paper is also accepted to be published in the upcoming issue of Ibnosina Journal of Medicine and Biomedical Science.
Sathiyaseelan is so impressed with neurofeedback and its effect in enhancing human performance such that he is contemplating to pursue PhD in Sports Science or in Sports Psychology or even a second Masters degree in Cognitive Neuroscience. And he chooses Europe for further studies since he feels that opportunity is wider than anywhere else and also the institutes have a greater reputation in research works.
Despite all the success on the academic front, things were not that easy for the man who came from a very austere background. Finding funds for the paper presentation trip to Austria and Australia was the biggest hurdle. Though he could not make his trip to Australia due to lack of funds, he is still grateful to few people who made it possible for him to travel to Austria. He does not forget to mention the names of his dear friend Mr. Praveen Kumar,
Mrs & Mr. Karthik,
Dr. Chitra Thangavel, Mr. Sriram,
Dr. Natarajan, Dr. Natesan, Dr.Innocent and S.P.Subramanian who all contributed towards his dream come true trip. He also mentions about his relatives who chipped in immensely for the same.
He adds that the core of any scientific field is its curriculum and that it needs to be developed and updated at regular interval. He feels that it is high time that physiotherapy curriculum in our country needs to be developed in a research oriented platform. For those in the research field, he tips that 'critical thinking' is the best and the most important tool.
Sathiyaseelan presently works at Navodaya College of Physiotherapy, Raichur, Karnataka, as a lecturer. He previously worked at AVM College of Physiotherapy, Kadapa, Andhra Pradesh. He also mentions about his teachers, colleagues and friends who had been part of his journey till now and thanks them for every bit of help. He hopes to continue this journey further and make good strides in physiotherapy.
News Categories