Amputation, Phantom Pain And Brain Changes.
Wednesday 13 March 2013 - 19:20:40
According to an Oxford University brain imaging study, changes in the brain following amputation have been linked to
pain arising from the missing limb, called 'phantom pain.' Arm amputees experiencing the most phantom limb pain were found to maintain stronger representation of the missing hand in the brain - to the point where it was indistinguishable from people with both hands. The researchers hope their identification of brain responses correlated with the level of phantom pain can aid the development of treatment approaches, as well as increase understanding of how the brain reorganises and adapts to new situations. 
The Oxford University researchers, along with Dr David Henderson-Slater of the Nuffield Orthopaedic Centre, report their findings in the journal Nature Communications. They were funded by the Royal Society, Marie Curie Actions, the Wellcome Trust, National Institute for Health Research (NIHR) Oxford Biomedical Research Centre, and the Medical Research Council. 
'Almost all people who have lost a limb have some sensation that it is still there, and it's thought that around 80% of amputees experience some level of pain associated with the missing limb. For some the pain is so great it is hugely debilitating,' says first author Dr Tamar Makin of the Centre for Functional Magnetic Resonance Imaging of the Brain (FMRIB) at Oxford University. Treatments for phantom limb pain tend to be limited to standard drugs for pain relief. The origin of the pain is not well understood. There may be many factors that lead to the pain, including injured nerve endings where the limb was lost and changes in the brain areas connected with the missing limb. 
Lynn Ledger, a 48 year old trained therapist and advisor to charities on management training from Nottingham, UK, took part in the study. She had her left arm amputated halfway between the elbow and shoulder in May 2009 after radiotherapy for a rare form of cancer failed to deal with an extensive tumour in her arm. She experiences severe pain as if it was coming from the missing limb. 'I've pretty much tried everything to deal with the pain but nothing has worked,' Lynn says. 'There are no drug treatments that work because the condition is not fully understood yet. I can only use various distraction techniques, breathing exercises and mental imagery techniques, to help me manage the pain. 'It's very hard to describe the pain to others. I have a nonexistent limb, but I still sense it and feel pain. It's like: imagine you are wearing a lady's evening glove that stretches from the fingers up the arm past the elbow. But everywhere the glove covers, it's as if it's constantly crushing your arm. There are also shooting pains and intensely painful burning sensations that come and go, but the crushing pain is constant. 'When I heard about this study I wanted to be involved as it was trying to improve people's understanding of the condition.' 
Kirsty Mason from Bracknell, UK, is 22 and about to start a new job as a support worker for people with mental health problems, as well as being an assessor for disabled students for their assisted technology needs. She lost her right arm four years ago just below the elbow after blacking out at a train station and falling on to the rails just ahead of a train coming in. She woke to find a wheel stopped on her arm. Since then she's learned to write with her left hand and began driving last year. She also took part in the brain imaging study. 'With me it's all or nothing,' Kirsty says of her phantom pain. 'I get the usual pins and needles and a constant niggling pain that I can shut out by doing other things. But the worst pain is a kind of burning. It's less frequent but it's intense: 90-100 on the scale. It sounds silly, but the only thing I can do is stick my hand in a freezer. It numbs it. She says: 'I can feel my fist clenching, my fingernails digging in. I can see the hand isn't there but the sensation is so realistic. If someone throws me a ball, I'll move both hands to catch it. I'll put out both hands if I fall over.' 
The Oxford University team used MRI imaging to study how the phantom limb pain felt by people who have had an arm amputated is related to changes in the brain. They compared MRI data for 18 amputees, with differing levels of phantom pain, with 11 individuals born with one hand through a limb deficiency and a control group of 22 adults with two full limbs. The amputations had been done 18 years ago on average, but the participants still experienced sensations for the missing arm. By asking them to move the fingers of the phantom limb while in the MRI scanner, the researchers were able to look at how the missing hand is represented in the brain. They found that the brain maintained its representation of the hand, even though the limb was no longer there. The extent to which the representation was maintained was linked to the strength and frequency of the pain the amputees felt: those feeling the greatest pain retained the strongest representation of the missing hand. 
'We were astonished to find that in amputees experiencing strong phantom pain, the brain's response was indistinguishable from that seen in people with intact limbs,' says Dr Makin. The researchers found that the amount of grey matter in the phantom hand area of the brain was reduced in amputees compared to those with two hands. But again this was linked to the amount of pain amputees felt. Those experiencing stronger pain showed less structural degeneration in the missing hand area following the loss of the limb. However, while those with strong phantom limb pain maintained the local brain structure and function for the missing hand, there was evidence that connections to other parts of the brain were disrupted more. In particular, the representation of the missing hand was more out of synch with the area looking after the other hand on the opposite side of the brain. 
Dr Makin says: 'Most people experience "phantom" sensations in a missing limb after amputation. This disconnect between the physical world and what they are experiencing appears to be linked to a functional detachment in the brain. There seem to be reduced connections between the missing limb part of the brain and the rest of the cortex that's involved in movement. 'Our results may encourage rehabilitation approaches that aim to re-couple the representation of the phantom hand with the external sensory environment.' 
While the Oxford University researchers, led by Professor Heidi Johansen-Berg, have found brain changes that are correlated with phantom limb pain in this study, they cannot tell if they are causal. To get a better understanding of that, they are beginning a trial with people who've had an arm amputation to see if a brain stimulation technique can influence the phantom pain they experience, taking MRI scans before, during and after the technique. The brain stimulation approach uses a tiny electric current from two electrodes placed at appropriate places on the outside of the head to try and boost the connection of the phantom limb area of the brain to the rest of the cortex.
Sourced from  www.medindia.com
Physiotherapy, Not A Knee Brace, Aids In ACL Recovery
Friday 28 December 2012 - 13:21:59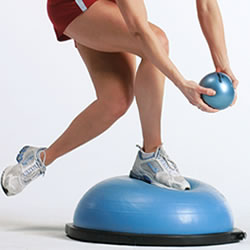 Wearing a knee brace following anterior cruciate ligament (ACL) surgery has no effect on a person's recovery. However, strength, range-of-motion, and functionality exercises provide significant benefits, and other new therapies may show promise. In a new literature review recently published in the Journal of Bone and Joint Surgery (JBJS), a team of orthopaedic surgeons reviewed 29 studies regarding treatment following reconstructive ACL surgery. They found that physical therapy, begun shortly after surgery, can bring about very good outcomes for patients. Bracing, though, did not seem to improve results.
The ACL runs through the middle of the knee joint and helps to stabilize it. While the ACL can be injured through impact, it is most commonly strained or torn during non-contact injuries. ACL tears are a common injury for athletes who turn quickly, land hard, and otherwise stress their knees including basketball, tennis, soccer, and football players. However, anyone can tear their ACL doing something as mundane as falling off a curb. 
ACL injuries often require reconstructive surgery, with post-surgical rehabilitative therapy. These therapies usually focus on improving the patient's strength, range of motion, and function, and also may include some balance exercises. 
Other findings of this reviews are that, physiotherapy should begin early, ideally within a few days after surgery. Therapies focusing on proprioception (awareness of movement of one's body) may have benefits; however, the extent of their efficacy requires further research. Balance therapies also may be promising. Neuromuscular therapies are not harmful, but their benefits are in doubt and require more study. Neuromuscular therapies should be used to support other physical therapies, not in place of them.
Accelerated rehabilitation also does not appear to be harmful, but should be studied further. No vitamins or other supplements have been proven to have any effect on ACL healing. "The most important thing for ACL surgery patients is to start physical therapy early and rigorously," says Rick W. Wright, MD, professor and co-chief of the sports medicine department at the Washington University Department of Orthopaedic Surgery, St, Louis, Mo. "It can be difficult at first, but it's worth it in terms of returning to sports and other activities."  
n.p. (2012, October 11). "Physical Therapy, Not A Knee Brace, Aids In ACL Recovery." Medical News Today. Retrieved from http://www.medicalnewstoday.com/releases/251336.php.
Old News
News Categories